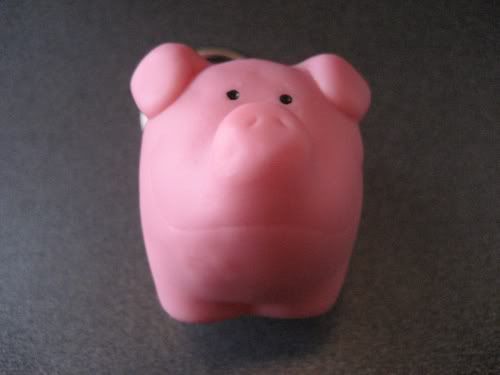 When my friend gave me a keychain attached to a plastic defecating pig, there was only one thing I could think to do with it...
First, I cut off the ears.

Next, I glued them back on upside down and built a spire of hot glue above them.

(Unfortunately it looked pretty crude. Hot glue definitely wasn't the ideal thing to use, especially since it's so stringy, but it was too late to turn back.)

After that it was time to build up the top.

Then I added the remaining shapes and details.

Paint came next.

And finally the defining characteristics.

What I made—or tried to make—was Alfred Jarry's Père Ubu.


Above: Jarry's woodcut. Below: Jarry's Ubu marionette.

For those who aren't familiar with the Ubu plays, a shitting pig is pretty close to what the title character actually is, so I couldn't let such an opportunity pass.
THE END