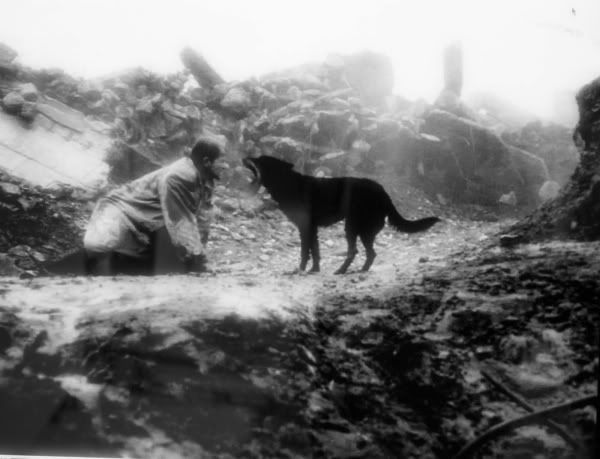 Lars Iyer's 2011 novel
Spurious
, that is.
INGREDIENTS:
1/2 gallon gin (any alcohol will do)
1 copy Roberto Bolaño's
The Savage Detectives
3/4 cups Bruce Robinson's
Withnail and I
1 cup Thomas Bernhard's
The Loser
2 DVD copies Bela Tarr's
Damnation
1/4 cup Tsai Ming-liang's
The Hole
1 drop Tao Lin's
Shoplifting from American Apparel
1 clown nose
The complete works of Franz Kafka
3/4 cups Rosenzweig's
The Star of Redemption
5 cans laughter
4,000 lbs. mushrooms
INSTRUCTIONS:
1.) Before you begin, remind yourself that Wittgenstein wrote the
Tractatus Logico-Philosophicus
in the trenches during WWI. (This will instill the proper sense of inadequacy required for the creation of the dish.)
2.) In a small mixing bowl, extract the essence of Arturo Belano and Ulises Lima from the second-half of
The Savage Detectives
; set aside for twenty years.
3.) Pour the remaining (you probably drank most of it) half-gallon of gin into large saucepan, add
Withnail and I
.
4.) Extract the mud from both copies of
Damnation
, pour into saucepan.
5.) Add 1 drop ennui from
Shoplifting from American Apparel
. Note: This, like the hottest of peppers, is a most dangerous ingredient. You want to instill the essence of ennui, as well as a touch of the book's glibness, but
nothing else
. Failure to do so will turn the whole dish to rot.
6.) Add clown nose, which you have been wearing, to mixture.
7.) Blend the Bernhard, add to saucepan.
8.) Add 1/4 cup Tsai's
The Hole
to mixture, stir thoroughly.
9.) Shred
The Star of Redemption
and Kafka's complete works. Combine in empty pot, set aside.
10.) Extract some of the dread and despair you feel whenever you read the latest climate change predictions, add to small mixing bowl.
11.) In main saucepan, stir in the feeling you had the day you looked in the mirror and discovered that you didn't look quite the way you thought you did.
12.) Add mushrooms (whole).
13.) Add 4 cans laughter.
14.) Go major in philosophy; return 4 - 6 years later when everything is moldy.
15.) Cover saucepan, turn on low heat.
16.) Watch Erland Josephson's fiery rant from Tarkovsky's
Nostalghia
on repeat until the essence of Belano and Lima has properly aged.
17.) Once ready, add the Belano, Lima, and despair essence to the charred remains of your once resplendent home.
18.) Leave the Kafka and Rosenzweig shreds out; it turns out you won't be needing them.
19.) The dish is now complete, but don't bother trying it. You already know that, compared to the likes of Ferran Adrià, Heston Blumenthal, and Thomas Keller, your cooking just isn't up to snuff. In fact, it's downright disgusting. Throw all of it out and sigh. Then drink the remaining can of laughter.
20.) Wonder how the dish might have turned out had you taught yourself how to cook last summer like you'd planned.