Main chant on Brooklyn Bridge: "We are unstoppable; another world is possible."
[via]
"Opposite the Verizon building, there is a bunch of city housing. Subsidized, rent-controlled. There's a lack of services, lights are out in the hallways, the housing feels like jails, like prisons. I walked around, and put up signs in there offering money to rent out an apartment for a few hours. I didn't say much more. I received surprisingly few calls, and most of them seemed not quite fully there. But then I got one call from a sane person. Her name was Denise Vega. She lived on the 16th floor. Single, working mom, mother of three.
I spoke with her on the phone, and a few days later went over and met her.
I told her what I wanted to do, and she was enthused. The more I described, the more excited she got.
Her parting words were, "let's do this."
She wouldn't take my money. That was the day of the eviction of Zuccotti, the same day. And she'd been listening to the news all day, she saw everything that had happened.
"I can't charge you money, this is for the people," she said.
She was born in the projects. She opened up her home to us.
She was in there tonight with her 3 daughters, 2 sisters. The NYPD started snooping around down on the ground while the projections were up, it was clear where we were projecting from, and inside it was festive.
"If they want to come up they're gonna need a warrant!," her family was saying. "If they ask us, well, we don't know what they are talking about!" They were really brave and cool.
[...]
The scale of the environmental and economic crisis we are facing, it's extraordinary. This movement is a response to that crisis. Our leaders aren't responding to any of that in a way that is commensurate to the crises we face. And that one sign has always spoken to me. We have to throw off our despair about the future world we might be facing, because if we come together as people and humanity, we can change it. And what Occupy Wall Street makes me feel is that for the first time in a long time that might be possible." --Mark Read, creator of Occupy Wall Street "bat-signal" [
X
]
---
Mark Read, from the above interview: "I knew I wanted to throw it on the Verizon Building. Everyone who lives in New York has looked at that big monolithic structure. For some of us, every time we look at it we think of how cool it would be as a projection surface."
It doesn't sound like the Verizon building was selected for any reason other than because of how physically great it is as a space, but symbolically it's also perfect to use the actual building (or body) of a giant communications company as a means in which to relay messages in support of OWS. Not only is Verizon providing its technology as a communicative aid to the movement, but now, through the creative use of other technology, they are providing their physical presence as well.
If they haven't quite been co-opted, they've certainly been "repossessed."
---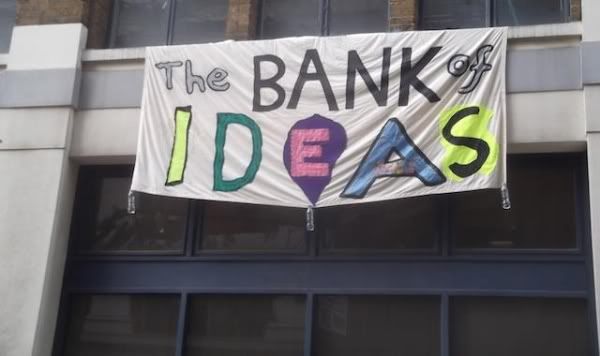 "Occupy London has taken over a huge abandoned office block in the borough of Hackney belonging to the investment bank UBS in a move it describes as a 'public repossession.'
Overnight on Thursday, a dozen activists from Occupy London, campaigners for social and economic justice as part of the global fight for real democracy, gained access to the building and secured it, giving them a legal claim on the space.
The multimillion pound complex, which has been empty for several years, is the group's third space and its first building, adding to its two camps at St Paul's Courtyard – near the London Stock Exchange in the heart of the City...
Occupy London supporters Jack Holburn said: "Whilst over 9,000 families were kicked out of their homes in the last three months for failing to keep up mortgage payments – mostly due to the recession caused by the banks – UBS and others financial giants are sitting on massive abandoned properties.
"As banks repossess families' homes, empty bank property needs to be repossessed by the public. Yesterday we learned that the Government has failed to create public value out of banking failure. We can do better. We hope this is the first in a wave of 'public repossessions' of property belonging to the companies that crashed the global economy."
The group say the space will be reopened on Saturday morning as the 'Bank of Ideas.'
Sarah Layler of Occupy London added: "The Bank of Ideas will host a full events programme where people will be able to trade in creativity rather than cash. We will also make space available for those that have lost their nurseries, community centres and youth clubs to savage Government spending cuts." [
X
]