(Parts I, II, III)
* * *
Once more, the enigmatic photo: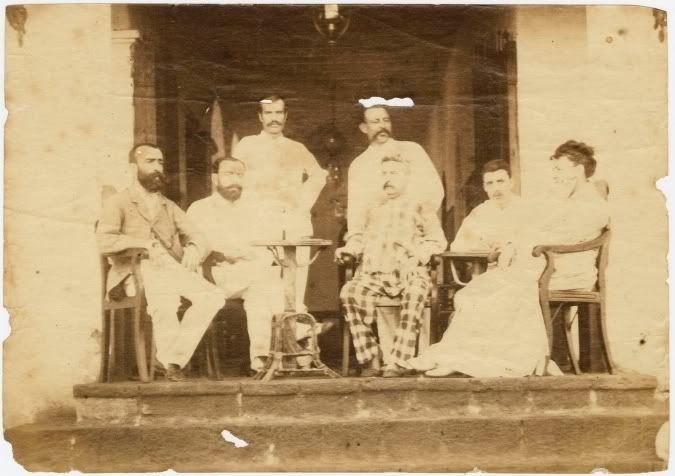 (Far left: "The Bearded Man")
The second most remarkable thing about the above photo -- or the first, if you've no interest in Rimbaud -- is the role played by various online Rimbaud enthusiasts (mostly on the Mag4.net forum). Together they provided theories, exchanged information, and deciphered various clues that led to many important questions and discoveries. An on-going creative conversation took place which, among other things, resulted in the identification of Henry Lucereau, something that had not yet been done even after the photo had been vetted for approximately two years by Rimbaud biographer Jean-Jacques Lefrère. This discovery was incredibly important because it created a concrete time frame in which the photo was forced to reside -- somewhere between September 1879 and August 1880, the dates when Lucereau was in Aden. To paraphrase Jacques Desse, one of the booksellers who discovered the Rimbaud photo, the controversy and progress of research related to this picture would
not exist
without the Internet. On the other hand, Desse recognizes the downside of democratization and immediacy: all voices are placed on the same plane without any "traceability." Thus it becomes very difficult to discern fact from fiction.
And so here we are.
In my previous post Henri Lucereau had just been identified in the photo, a fact that ruled out the possibility of Rimbaud
if
the bearded man on the left was Rimbaud's employer Alfred Bardey (which was commonly assumed at the time). This is because Bardey was not in Aden in August 1880, and Rimbaud was not there before mid-August 1880. And we know that Lucereau was not there
after
August 1880 (as I wrote previously, Lucereau made a last passage through Aden between July and October, which, it has been said, can be dated to approximately the 10 - 20th of August; he was killed in the surroundings of Harar on October 20, 1880). Therefore, in order for Lucereau
and
Rimbaud to be in the photo, the date of the picture had to be August 1880.
So, I wrote, "who is the bearded man if not Bardey? Lefrère doesn't rule out the possibility that it's Colonel Dubar (brother-in-law of Jules Suel), or even Suel himself..." Six-months after I made those remarks, Jacques Desse emailed me a link to the research he'd been working on with fellow book-dealer Alban Caussé. The Bardey double had been identified: photographer and African explorer Georges Révoil.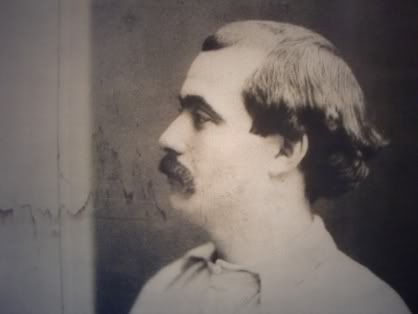 (Révoil - taken sometime in 1880, before July 25... or possibly not until 1884!)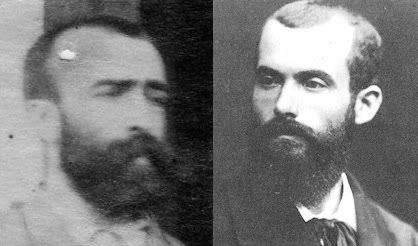 (The Bearded Man, 1879-80; Georges Révoil, 1881)
Since that time there have been some new developments, many of which delve deeper into the identity of the bearded figure.
But first, to give an indication of the murky and transient nature of this whole ordeal, let me go back again to Lucereau. After he was positively identified in the photo, some people thought that his presence alone -- irrespective of Bardey's presence -- prohibited Rimbaud from being in the picture. Lucereau, they thought, was not in Aden in August. But this theory was debunked by a signed letter (discovered by Jacques Desse) that Lucereau sent from Aden to the consul of France, dated August 13, 1880. (The authenticity of
the document
has not been disputed.)
* * *
Doubt was cast on the narrative of Révoil-as-the-bearded-man when Rimbaldian Jacques Bienvenu posted months of research on his personal blog,
Rimbaud Ivre
.
Enter Dr. Dutrieux: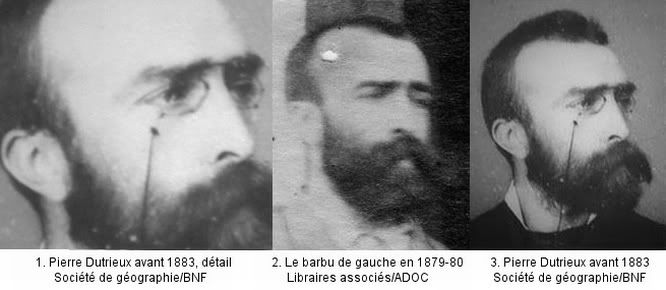 In February 1881, Dutrieux, after being informed that Lucereau had been killed a few months earlier, wrote a letter to an Egyptian newspaper. "The brotherhood that unites all African travelers put me in sympathy with Mr. Lucereau... and I owe it to myself to honor the memory of the unfortunate traveler." In the letter he mentions the time he spent with Lucereau in Aden, a mere fifteen days in November... 1879 -- a full year before Rimbaud had arrived! And this short stretch seems to be the only time they ever met. Thus, Dutrieux's photo and letters not only cast doubt on Révoil, they also cast a very real doubt on, and possibly even disprove, the presence of Rimbaud. And so the identity of the bearded man once again takes on crucial importance. Is it Révoil or Dutrieux?
Well, after all of this came to light, Jacques Desse and Jean-Jacques Lefrère speculated that it was not impossible for Dutrieux to be in Aden in August 1880. Their reasoning? Dutrieux was in Egypt during the summer of 1880 as part of a mission to fight slavery, but when he found out that his mission would not extend beyond the city of Siut, he gave up. It seems not unlikely, they surmised, that Dutrieux would then go to Aden (easy travel via the Red Sea) in order to talk to his friend Lucereau (before Lucereau left on his travels), as well as to gather information. Not a very convincing explanation, especially in light of Dutrieux's letter, which never mentions a second meeting.
Another idea that suggests Dutrieux's presence in August 1880 is the fact that he had been to Zanzibar. This is interesting because we know that Rimbaud spoke of going to Zanzibar in his letters, and the idea here is that someone (Dutrieux?) put the idea into his head. This is quite tenuous, though I suppose it is
somewhat
suggestive.
All of this was put to rest, however, when German scientist and literary detective Reinhard Pabst discovered an autographed letter of Dutrieux's dated August 16, 1880. It begins: "I am writing from Siut [a city south of Cairo, now known as Asyut] where I have been a few days."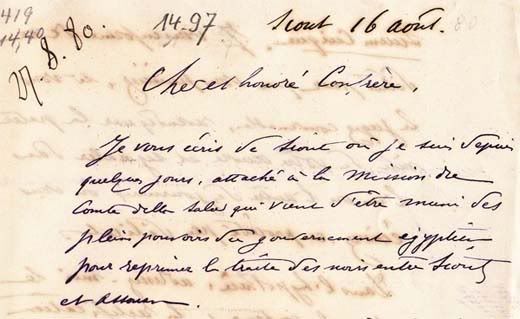 This means, of course, that if the bearded man is indeed Dutrieux, then the photo was taken in 1879, not in August 1880. This was more-or-less known before with Dutrieux's other letter recounting his 15 day meeting with Lucereau in 1879, but now there could be no doubt about his absence during the only period when Rimbaud and Lucereau could have met.
Since Pabst's remarks are amusing as well as informative, I will quote (via translation) what he makes of this:
"Even if the doctor had thrown his pen into the corner of the room and left for Aden as soon as he finished the second page of his letter ... he would not arrive in time for Lucereau's departure. Even the hero of Jules Verne, Phileas Fogg (
Around the World in Eighty Days
) could not have made this happen! To make the 1,310 mile journey on the Red Sea from Suez to Aden around 1880, a steamboat would take eight days... In addition, Siut / Assiut is located several hundred kilometers from Suez. And why would Dutrieux have to go so suddenly to Aden? ... Defenders of the bold hypothesis of Rimbaud are now in serious trouble. They can still keep the photo taken outside the Universe Hotel as part of Rimbaud's iconography, but it seems more uncertain than ever. And if they do, then how?"
Jacques Desse and Alban Caussé have done so in various ways, one of which points out that the photo Jacques Bienvenu used of Georges Révoil was crudely retouched, as are all of Révoil's other "official" pictures. The majority of them were taken taken by Eugene Pirou, probably in the late 1880s, and in them Révoil's baldness was retouched because it was considered to be unbecoming for a diplomat.
So, Révoil's baldness could no longer be used as a means in which to conclude that he is not the mysterious bearded man (which, among other things, Bienvenu (and others) had done up until then).
The "unofficial" pictures of Révoil give an entirely different impression: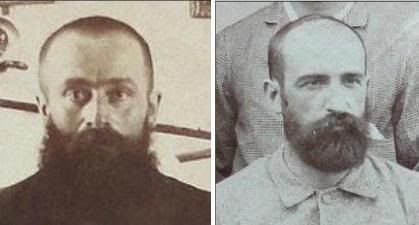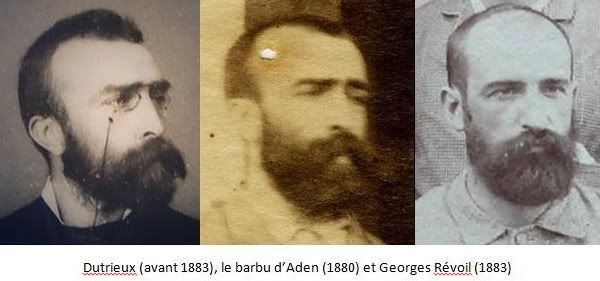 There are also other representations that have been found of Dutrieux that, according to Desse, have been ignored and/or glossed over by Bienvenu because they don't look much like the man in the Aden photo:
(Left: The tomb of Dutrieux; Right: Engraved portrait, "probably from a photo taken in 1877")
And historian of photography
André Gunthert
had another way of looking at the photo, namely, the technique. The objects in the photo, he pointed out, are marked by a slight tremor. This shows that the photo was taken using gelatin dry plates, a technique that replaced the collodion process in the 1880s. "There are no known photos of collodion which have made a blur of this type (characterized by an equal distribution over the entire image, a very small amplitude and two distinct edges)."

Why is this important? Because Georges Révoil was in Aden August 7, 1880 with photographic equipment that "perfectly matches" the characteristics of the Aden photo. André Gunthert (paraphrased via translation): "Although the dry plate begins to be used by avant-garde photographers in the early 1880s, its use remained uncommon ... until the middle of the decade. It [is] therefore particularly interesting to see [it used] early in the summer of 1880, which is counted among the earliest examples preserved in the practice of the dry plate. Fortunately, Jacques Desse and Alban Caussé support this hypothesis by examining the archive of explorer Georges Révoil... The blur from the image that everyone can see is the signature technique of gelatin, and one of the few irrefutable facts about this document. That this image has been executed in 1879 is very unlikely. This hypothesis would require someone to prove that another photographer practiced gelatin in Aden before Révoil." (At the same time it must be said that André Gunthert wrote all of this thinking that the bearded man was likely Dutrieux. And it was
before
Reinhard Pabst had discovered the letter showing that Dutrieux was not in Aden in August 1880). Regarding '79 vs '80, Jacques Desse wrote that gelatin silver was certified in Aden in August 1880, but "certainly not" in November 1879...
So where does that leave things? Clearly the technical details of the photo add compelling reasons to consider Révoil over Dutrieux (or the unlikely scenario of Dutrieux somehow in '79), but what about the likeness? Who does that favor? The strange hairline makes one want to proclaim Dutrieux. The eyebrows, too. The eyes, however, match much better with Révoil (though not the eyelids)...
Here are the ears and beard-line:

Unfortunately I think the Aden ear is a little bit too blurry for anything to be determined with certainty, but it might slightly favor... I'll let you decide.
I think it's also worth noting that the Dutrieux photo has the distinct advantage of being taken from a very similar angle as The Bearded Man, something that's not true for the most convincing Révoil photo.
The verdict? Well, much of the media has already determined -- prematurely, in my opinion -- that this is NOT Rimbaud. The consensus is that the man is Dutrieux, which, because of his letters, means that there's no way he could have been on the terrace of the Universe Hotel in 1880. Even Wikipedia outright states that the presence of Rimbaud has been completely debunked. Referencing an article Jacques Bienvenu wrote for
Le Monde
, it
says
: "The man sitting on the right was believed (in 2010) to be be Arthur Rimbaud but turned out not to be."
But, wait! As if to demonstrate the perils of the Internet, there's a document on
THIS BLOG
that claims evidence proving that Dutrieux
was
present in Aden during the month of August, 1880. The problem, however, is that I don't know who the author is, where the document comes from, or even if the document has been deemed authentic. As far as I can tell, no one has even commented on it! (To add a modicum of credibility, I found it via a link on the main page of the Mag4.net Rimbaud website.)
* * *
Personally I think there's still a decent chance the mustached man is (inexplicably) Rimbaud, but a lot of that has to do with the very unscientific and biased fact that, unlike most, I happen to think that the face on the terrace looks a lot like him (or at least how one might expect him to look)... The droopy eyes, the ear, the puffy bottom lip...
Reversed and contrasted image revealing a somewhat gaunt face (via contrast):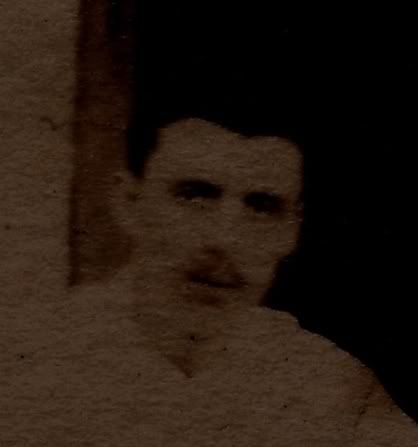 Reversed image with blur removed: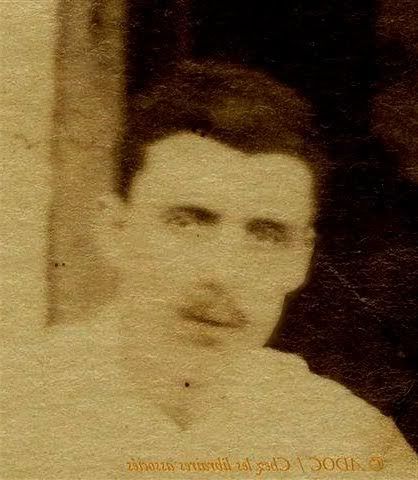 But then again, what do we really know about the face of Rimbaud?
---
Note: Not every single detail has been relayed here. Dutrieux, for example, wrote that he was "dying" when he came back from Zanzibar and arrived in Aden in 1879. This is noteworthy because it doesn't seem to match with the image of The Bearded Man in the photo. But other people believe this remark to be hyperbole on his part (citing other letters he wrote etc)... There are simply too many details like this to include every single one, and it gets complicated when there are various sides arguing different things. Instead, since very little of this information is available in English, I tried to give an overview of the photo in a way that allowed me to shape the developments into a sort of narrative (albeit a somewhat simplified one).
Credits: Jean-Jacques Lefrère, Jacques Desse & Alban Caussé (
their blog
), Jacques Bienvenu (
his blog
),
Reinhard Pabst
, André Gunthert, and
Mag4.net
, as well as a few other articles I've long lost track of. For more on Révoil and Dutrieux (with more pictures of Révoil), see
THIS
.