Sorry for the delay!
I've decided to keep the same introduction for all "phantom" posts I make so that each one can stand on its own.
* * *
NOTE: The dotted-underlined bits of text are not links; hover your cursor over them to reveal hidden text. (I've been told that this doesn't work well with Safari (the text disappears after about 10 seconds). Firefox recommended.)
* * *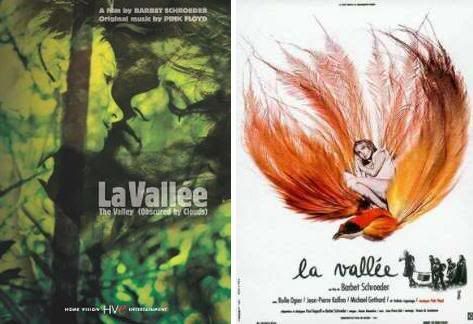 Phantoms are all around me.
I keep track of them with lists or on scraps of paper.
I do this for the same reasons children collect fireflies in jars.
Phantoms are all the alluring things that exist on the horizon.
Phantoms exist only in the future, yet they call back to the past in order to make their presence known.
Phantoms, by definition, are mysterious; thus, they have only imaginary value.
They're called phantoms because it's impossible to know which ones will find us and which ones will forever remain on the horizon.
I once saw a enigmatic, evocative poster for a film with an equally enigmatic title:
The Valley (Obscured by Clouds)
. Instantly the film became a phantom. The plot, unknown to me at the time, formed loosely in my head, and some of the scenes crystallized and played out. Years later I finally had the chance to see the film. It was a disappointment.
Most things don't live up to their imaginative value.
Most things are better left as phantoms.
I have many phantom books on my shelves. Beautiful titles, beautiful covers, beautiful authors, beautiful reputations, and a few beautiful things I know about them. They build and build in my imagination until, finally, they turn into cathedrals.
I do this on purpose because I've learned an awful truth: it is rare for a book to remain better opened than
closed
.
In certain cultures writers sometimes leave a few pages of their novels blank for the reader to fill with their imagination.
Sometimes I wish all books were just beautiful covers and blank pages.
Here are some of my phantoms.
* * *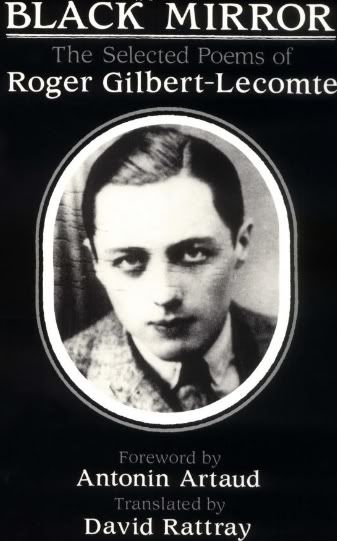 Black Mirror: The Selected Poems of Roger Gilbert-Lecomte
Because Gilbert-Lecomte remains on the periphery (even more elusive: his book on Arthur Rimbaud). Because he kept good company. Because of what Artaud said about his poetry (see above). And because of that face.
Film Posters of the Russian Avant-Garde (Susan Pack)
Because it's a 320 page collection of some of the best designed movie posters in history.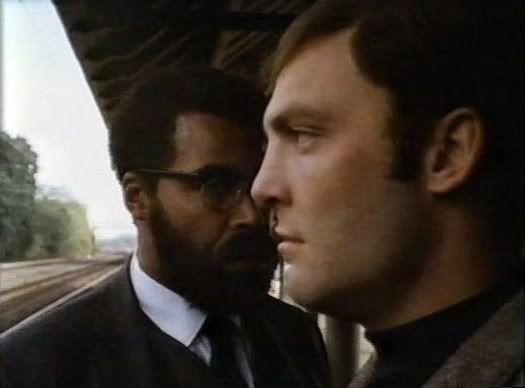 End of the Road (Aram Avakian, 1970)
Because 1970s American independent cinema is one of my favorite periods. Because I think it will have the feel of John Huston's Fat City (1972). And because people seem to either love it or hate it, which is often a good sign.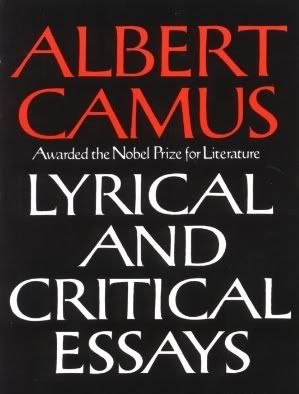 Because I only recently found out this book existed (I didn't know Camus wrote any literary criticism outside of the bits found throughout The Rebel). Because I'm curious to read his essay on Melville and his Encounters with Andre Gide. And because last month I read The Stranger for the third time and it rekindled my interest and admiration for Camus; now I want to go back and (re)explore one of the authors responsible for getting me interested in literature.
Araya (Margot Benacerraf, 1959)
Because the trailer is packed with beauty. Because after seeing it Jean Renoir told the film's director "Above all ... don't cut a single image!" Because it's one of the earlier films to blur the line between documentary and fiction. And because it's another "lost classic" brought to light by Milestone (responsible for my viewing of the great films Killer of Sheep and The Exiles).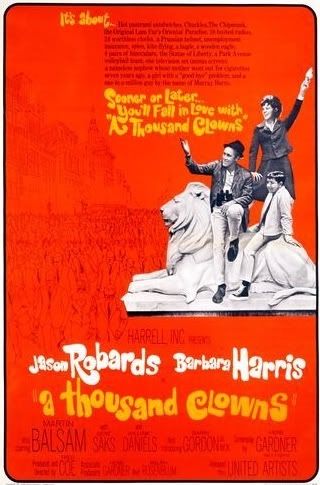 A Thousand Clowns (Fred Coe, 1965)
Because I once saw the first few minutes and I've been intrigued ever since.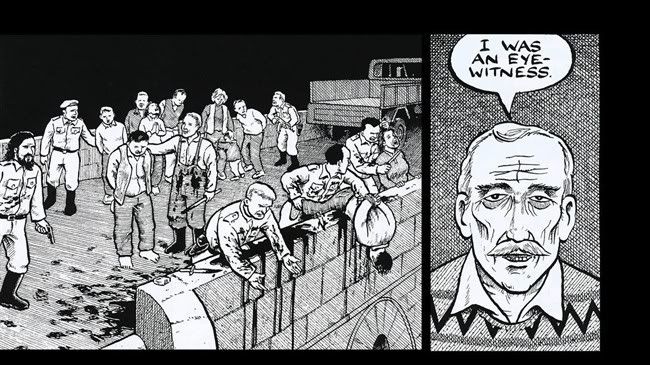 Safe Area Goražde (Joe Sacco, 2000)
Because Sacco is a highly acclaimed comic book artist who is also considered to be a journalist. Because I don't know very much about the Bosnian War. And because Edward Said made the following remark about Safe Area Goražde: "With the exception of one or two novelists and poets, no one has ever rendered this terrible state of affairs better than Joe Sacco."
Capitalist-Realism (Mark Fisher, 2009)
Because: "Let's not beat around the bush: Fisher's compulsively readable book is simply the best diagnosis of our predicament that we have! Through examples from daily life and popular culture, but without sacrificing theoretical stringency, he provides a ruthless portrait of our ideological misery. Although the book is written from a radically Left perspective, Fisher offers no easy solutions. Capitalist Realism is a sobering call for patient theoretical and political work. It enables us to breathe freely in our sticky atmosphere." --Slavoj Zizek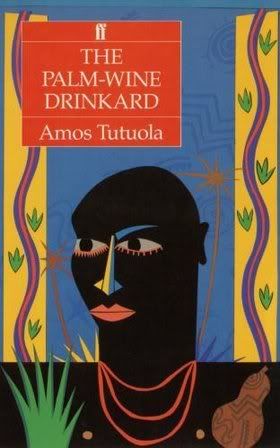 The Palm-Wine Drinkard (Amos Tutuola, 1946)

Because Raymond Queneau and Dylan Thomas both thought highly of it (the latter described it as "brief, thronged, grisly and bewitching.") And because I know next to nothing about African literature (of which it's

often

considered to be the seminal work).
Visage (Face), Tsai Ming-liang (2009)
Because Tsai is one of my favorite directors. Because Lee Kang-sheng is one of my favorite actors. And because this is Tsai's third musical and his previous two were interesting, innovative and highly enjoyable (if one is allowed to say that about The Wayward Cloud).
The Obscene Bird of Night (José Donoso, 1970)
Because it sounds like magic. Because of those two disparate covers. And because Luis Buñuel called it "a masterpiece... one of the great novels not only of Spanish America, but of our time" (Buñuel was my father).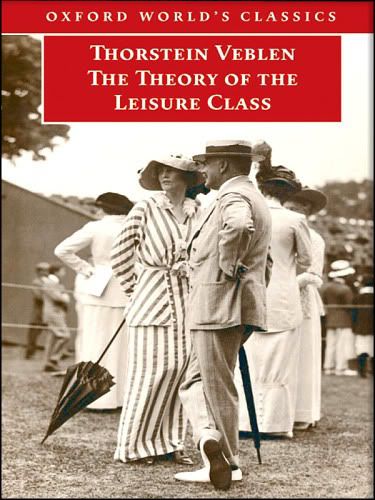 The Theory of the Leisure Class (Thorstein Veblen, 1899)
Because it's supposed to be a witty satire of American snobbery, consumption, and wastefulness. Because Veblen sounds like a funny guy (perhaps unintentionally so, which is often better). And because it's considered to be an important and influential text.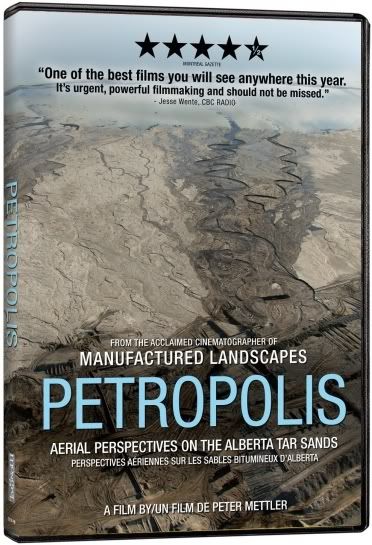 Petropolis: Aerial Perspectives on the Alberta Tar Sands
(Peter Mettler, 2009)
Because (I think) the entire film consists solely of aerial shots of the immense Alberta tar sands sans narration or editorializing (save for where the camera is pointed), and this seems to me like the perfect way to cover this Canadian Zone (Lessons of Darkness meets Koyaanisqatsi?).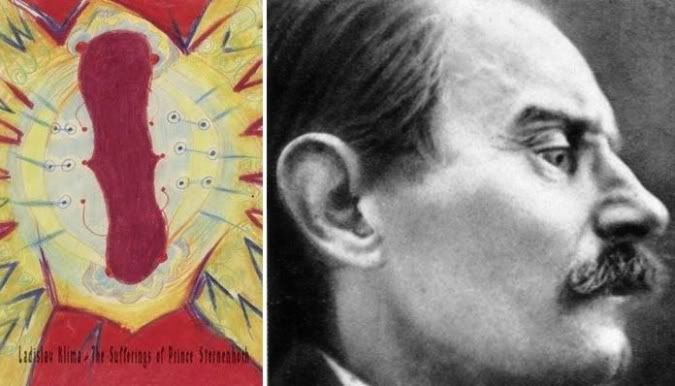 The Sufferings of Prince Sternenhoch (Ladislav Klíma, 1928)
First and foremost, because the novel sounds very interesting. But also because Klíma "spent the later part of his life living in a hotel, shining shoes for a living, drinking spirits and eating vermin" -- so we owe him at least a perusal!
Franz Kafka's A Country Doctor and other Fantastic Films by Koji Yamamura
Because I like animation, the stills look promising, and, outside of the short film Mt. Head, I'm unfamiliar with the highly acclaimed Koji Yamamura.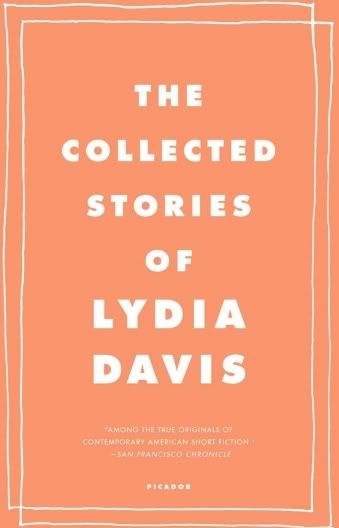 The Collected Stories of Lydia Davis (Lydia Davis, 2009)
Because I've heard from trusted sources that she's one of the very best.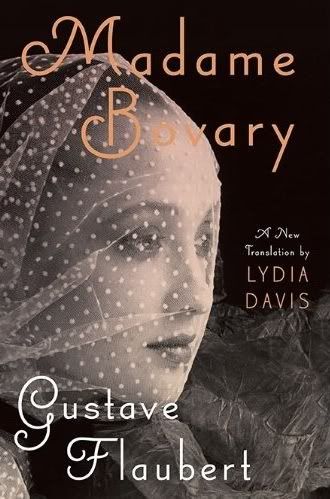 Madame Bovary, translated by Lydia Davis (2010)
Because I read the Steegmuller translation of Madame Bovary years ago and didn't think much of it, and I'd like to give the novel another chance.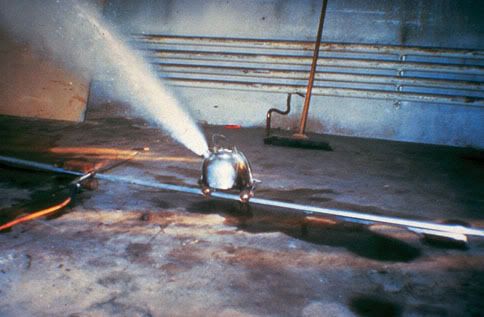 The Way Things Go (Peter Fischli and David Weiss, 1987)
Because it's supposed to be a dazzling 30 minute Rube Goldberg illustration brought to life, and I'd like to see for myself just how impressive and imaginative it really is (or isn't).
The Future of the Image (Jacques Rancière, 2007)
Because it sounds like just the book I've been looking for (though I have a Rancière lecture bookmarked for future listening that might change my mind...)
Tennessee Williams: Notebooks
Because Williams is quickly becoming one of my favorites.
Macunaima (Mário de Andrade, 1928)
Because... (see the many possible reasons above). And because I once saw a few minutes from a film adaptation that were so utterly ridiculous that I couldn't help but wonder what might lie between the pages of the book that inspired it.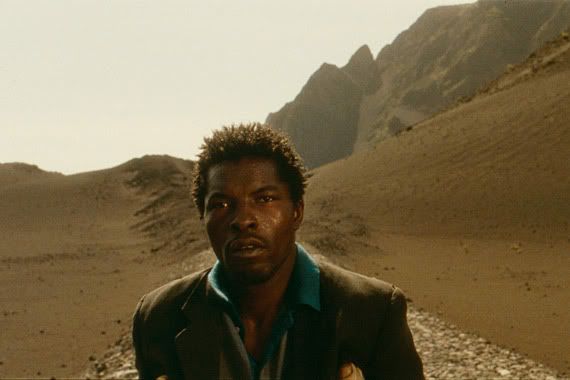 Casa de Lava (Pedro Costa, 1994)
Because I haven't seen any of Costa's earlier films (unless Ossos counts) and he's always worth watching. And because the film is called House of Lava and the images from it look stunning.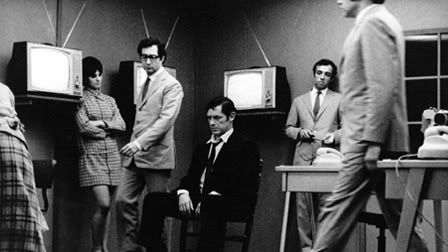 Invasión (Hugo Santiago, 1969)
Because it was recommended to me by a man I met on a safari just before he was eaten by a lion (his last words).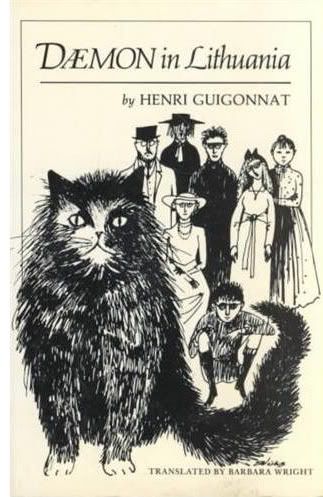 Daemon in Lithuania (Henri Guigonnat, 1974)
Because it just sounds fun, ok?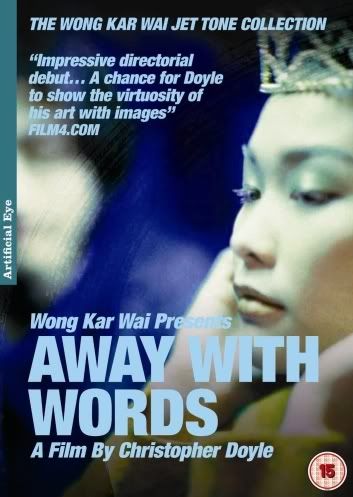 Away with Words (Christopher Doyle, 1999)
Because I want to see what a 100% Christopher Doyle film looks like.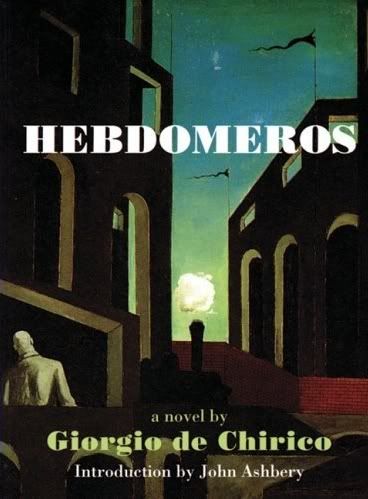 Hebdomeros (Giorgio de Chirico, 1929)
Because it's written by painter Giorgio de Chirico. And because poet John Ashbery called it "probably...the finest [major work of Surrealist fiction]". (Bonus phantom: Ashbery's translation of Rimbaud's Illuminations is due out in May.)
Blue Light in the Sky & Other Stories (Can Xue)
Because, on that same safari, the lion who ate the man was quickly killed and skinned, and on the two ribs that crossed directly over his heart the following words were engraved: "blue light in the sky STOP dirty snow STOP refuses to melt." And since there is no other logical conclusion I can only assume that the devoured man made another recommendation to me with his pen knife while trapped inside the lion. (Bless his soul!)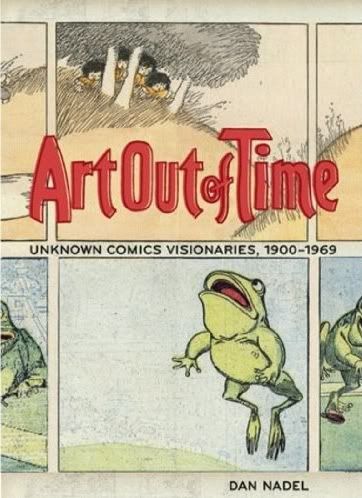 Art Out of Time: Unknown Comics Visionaries, 1900-1969
Because I like comics and frogs, and it's a book about comics with a frog on the cover! (I've been making this post for hours - leave me alone! This phantom is self-explanatory anyway.)
A Brighter Summer Day (Edward Yang, 1991)
Because it's by Edward Yang. Because for years it has been popping up in things I've read. Because it frequently appears on lists of the greatest films of the 90s (often as number one). And because, like Rivette's legendary Out 1, it has remained elusive, yet it is rumored to be making its way to DVD...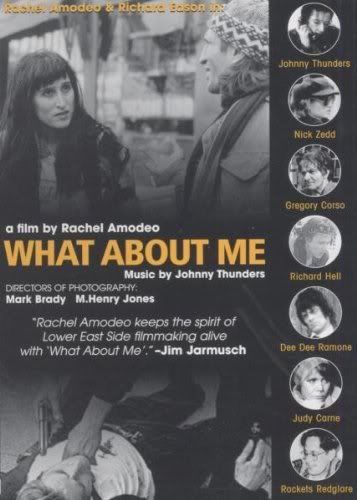 What About Me (Rachel Amodeo, 1993)
Because I like punk/street films about disaffected youth. And because it features appearances by Richard Hell, Dee Dee Ramone, Rockets Redglare, Johnny Thunders (who contributed to the score), and Gregory Corso.
A.G. Rizzoli: Architect of Magnificent Visions
Because I like imaginative/imaginary places. And because I like outsiders, especially those with magnificent visions (again, this one seems self-explanatory if you read the hidden text).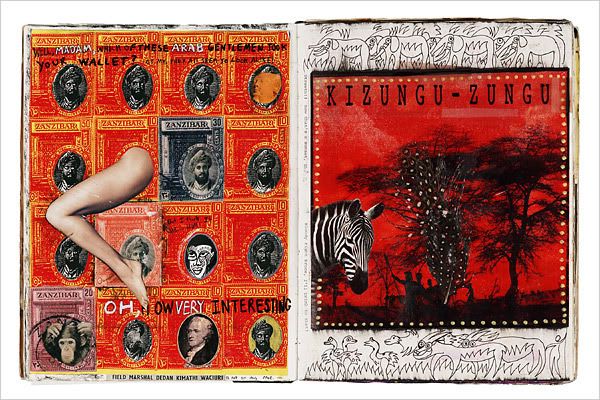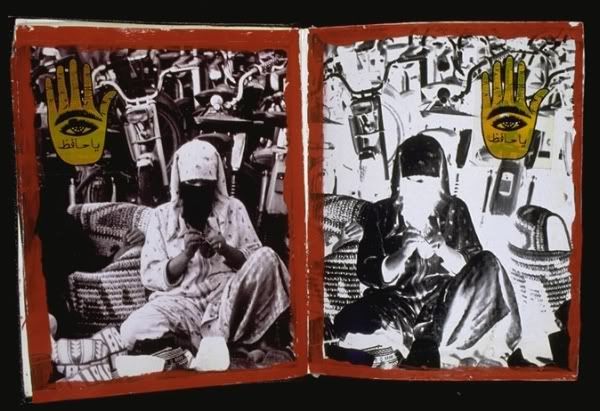 The Journey is the Destination: The Journals of Dan Eldon
Because Dan Eldon was a legendary photojournalist (and artist) who, along with his three colleagues, was beaten and stoned to death by an angry mob in Mogadishu in 1992 (he was 22). This book features selections from his journals.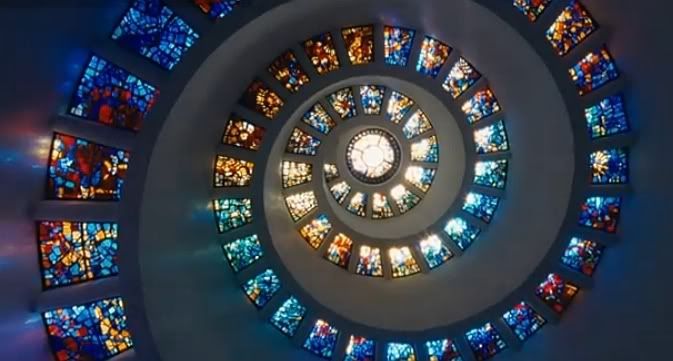 The Tree of Life (Terrence Malick, 2011)
Because Malick has yet to make a bad film and at the same time I can't imagine how something this ambitious can possibly succeed (I've read as little as possible about the plot; I just know it has something to do with the beginning and end of the world (or something) which, if true, is doubly interesting because it sounds like Malick has - for the first time - chosen a "narrative" that will perfectly match his loose, elliptical style.)