A guest post by
D.J. Carlile
, poet, playwright, lit crit and big Zappa fan, who lives in Los Angeles. His critically-praised translation of
Rimbaud: The Works
is available from Amazon and most other sources of printed material.
* * *
"The composer's job involves the decoration of fragments of time. Without music to decorate it, time is just a bunch of boring production deadlines or dates by which bills must be paid." —FZ, The Real Frank Zappa Book (1989)
Often thought of as the Bad Boy of Rock 'n' Roll for his satiric and sometimes off-color lyrics, Frank Zappa was a musician of immense and concentrated genius. His industry was legendary and over the course of a three-decade career he produced, on average, two albums a year, toured with a band, made videos or film and created countless notated scores. Less well-known is the fact that his music also attracted the interest of such classical maestros as Pierre Boulez, Kent Nagano and Esa-Pekka Salonen. Initially dismissed as a prankish parvenu, Zappa's status as a composer has risen in recent years, due in part to a series of albums recorded by the Ensemble Modern— notably
The Yellow Shark
and
Greggery Peccary
— and the more frequent appearance of his music on symphonic or chamber programs in the avant-garde vein.
A pair of instrumental albums with the London Symphony Orchestra under Nagano's baton appeared in 1983 and 1987 to mixed reception as
Orchestral Works, Vols.
I & II
. Densely textured and dissonant, the music was not embraced by Zappa's strictly rock fans, while the classical critics found it diffuse or too thickly orchestrated and difficult to follow.
Performances of his symphonic music were generally plagued by low budgets, limited rehearsals and union hassles. The soundtrack to the 1962 film
The World's Greatest Sinner
had a track by Zappa performed by the Pomona Symphony Orchestra, but it was woefully under-rehearsed and FZ called the results "rancid." This was followed in 1968 by
Lumpy Gravy
and in 1970 by
200 Motels
(another film score), both of which suffered from lack of rehearsal-time and some ragged, inaccurate playing. 200
Motels
is significant in that the Royal Philharmonic is featured in the film as part of the action, wherein Ringo Starr plays the role of Zappa-as-conductor and Keith Moon, in one of his last film appearances, plays a crazed nun who creates mayhem by running amok through the orchestra as they attempt to play the score. This movie is an underrated surreal-comic gem devoted to the old rock 'n' roll axiom that "touring will make you crazy." The orchestral score is played with impressive energy and fervor despite the lack of polish.
In 1984 two albums appeared which gave notice that FZ was indeed more "classically" serious than the garden-variety rock-musician-plus-symphony-orchestra gig. The first of these was devoted to arrangements of trio sonatas by FZ's 18th century namesake Francesco Zappa (no apparent relation), an Italian cello virtuoso who flourished circa 1763-88. This was accomplished on the synthclavier (a synthesizer attached to a working keyboard), which had become Zappa's instrument of choice for composition and arrangement due to its high degree of flexibility. The original sonatas are lightweight, tuneful pieces of a dignified lyricism. Not, certainly, any threat to the status of a Mozart or Haydn, they are nevertheless a cut above the average 18th century output. Zappa's arrangements, similar to Stravinsky's transformations of Pergolesi in
Pulcinella
, are pungent, lively re-creations.
"To be able to write a piece of music and hear it in your head is a completely different sensation from the ordinary listening experience." —FZ page 142
The other release of that year featured Pierre Boulez conducting the Ensemble Intercontemporain in a program of Zappa's works entitled
The Perfect Stranger
. Best known as a conductor of such modern masters as Debussy, Bartók, Varèse and Stravinsky, Boulez was also an acclaimed composer of seriously abstract music himself. Zappa had sent him some scores for consideration and was delighted when Boulez agreed to record them. Zappa was of the opinion that the results were the most successful recording of his so-called "classical stuff." Boulez had no shortage of rehearsal time, and his grasp of the technical difficulties inherent in most contemporary music went a long way toward ensuring the superior quality of
The Perfect Stranger
.
Zappa was, in essence, an eclectic musician; he derived his pop vocabulary from early rhythm-and-blues, rock 'n' roll, doo-wop, TV jingles, film music and popular ballads, while at the same time forging his classical style out of Stravinsky, Bartók, Ives, Stockhausen and Varèse, blending these influences into a surreal texture of abrupt rhythmic changes and abstract melodic lines. The influence of Varèse was perhaps first and foremost here.
"Made at the height of Cream and love beads, Cruising with Ruben & the Jets (1968) ... was the first rock & roll tribute record: 13 original songs, soaked in the oiled pompadour cool, prom-night lust and tremulous croon of Fifties vocal group R&B.... Doo-wop was as vital to Zappa's composing palette as Stravinsky..." —David Fricke, Rolling Stone review of Greasy Love Songs, the CD reissue of "Cruising with Ruben & the Jets" (with added tracks), June 10, 2010; page 81
When he was a teenager, living in Southern California, FZ read an article in
Look
magazine wherein Sam Goody, a New York City record retailer, bragged that he could sell anything, even an album called "Ionisation." As Zappa later recalled: "The article went on to say something like '
This album is nothing but drums— it's dissonant and terrible; the worst music in the world.
' Ahh! Yes! That's for me! I wondered where I could get my hands on a record like that... [...] Sometime later, I was staying overnight with ... a friend who lived in La Mesa, and we wound up going to the hi-fi place— they were having a sale on R&B singles."
While he was browsing the bins, an album cover caught his eye: "...a strange-looking black-and-white album cover with a guy on it who had frizzy grey hair and looked like a mad scientist. I thought it was great that a mad scientist had finally made a record, so I picked it up
—
and there it was, the record with 'Ionisation' on it." The price of the album was $5.95 and Zappa had only $3.75 in his pocket, but the owner of the store gave him a deal on the disc and he went home with an empty pocket and
The Complete Works of Edgard Varèse, vol
. 1 in his hands.
A while later, he bought his first Stravinsky record, a version of the
Rite of Spring
with a "green-and-black abstract whatchamacallit" on the cover. "I loved Stravinsky almost as much as Varèse," he later wrote. Soon after, he discovered Webern and Bartók.
Based on the description of the cover art, Zappa was probably referring to this
Everest recording with Sir Eugene Goossens conducting the London Symphony
Orchestra, an early hi-fi stereo LP much praised in its day for its spectacular sonics.
On his fifteenth birthday, when his mother offered to buy him something special, he persuaded her to let him make a long-distance phone call. ("Nobody in our house had ever made a long-distance phone call," he noted.) So his wish was granted and he found the number of Varèse through directory assistance. When he got an answer, it turned out that Varèse was in Belgium working on a piece called 'Poème Électronique' for the World's Fair in Brussels. The composer's wife Louise (a noted translator of French poet Arthur Rimbaud) was cordial and suggested that Zappa call back in a few weeks, which he did. "I don't remember exactly what I said when I finally spoke to him— probably something articulate like '
Gee
—
I really dig your music
,'" Zappa recalled.
"Varèse told me that he was working on a new piece called 'Déserts,' which thrilled me since Lancaster, California, was in the desert. When you're fifteen and living in the Mojave Desert, and you find out that the World's Greatest Composer (who also looks like a mad scientist) is working in a secret Greenwich Village laboratory on a 'song about your hometown' (so to speak), you can get pretty
excited
. I still think 'Déserts' is about Lancaster, even if the liner notes on the Columbia LP insist that it is something more
philosophical
." [see the comments section to read an amusing letter 16-year-old Zappa wrote to Varèse]
"Composition is a process of organization, very much like architecture. As long as you can conceptualize what the organizational process is, you can be a 'composer'— in any medium you want. You can be a 'video composer,' a 'film composer,' a 'choreography composer,' a 'social engineering composer'— whatever. Just give me some stuff and I'll organize it for you. That's what I do." —FZ page 139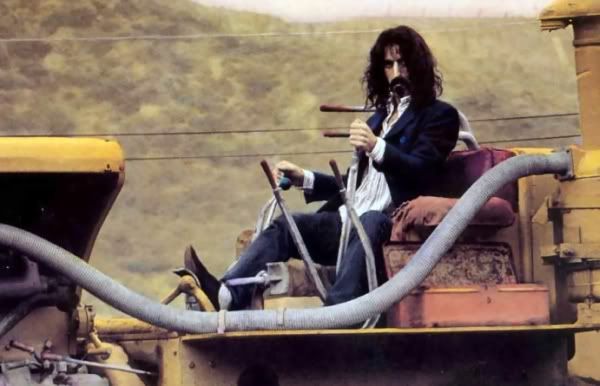 In 1992 Zappa appeared as guest conductor of the Ensemble Modern for a series of concerts of his music in Germany. This turned out to be is last public appearance onstage; he died the following year of prostate cancer. The album of those concerts was released a month before his passing. Entitled
The Yellow Shark
, it contained 19 of his "classical" compositions , including the breezy "Dogbreath Variations"— a piece that was later programmed by the Los Angeles Philharmonic under its music director E.P.Salonen.
"[The Yellow Shark] is his last major work. The ensemble is awe-inspiring. It is a rich pageant of texture in colour. It's the clarity of his perfect madness, and mastery. Frank governs with Elmore James on his left and Stravinsky on his right. Frank reigns and rules with the strangest tools." —Tom Waits
In the middle of the first decade of the 21st Century, Frank's oldest son Dweezil, a guitarist of no mean accomplishment himself, began to organize a series of concerts devoted to his father's music. The band(s) that he assembled consisted of younger musicians— some not yet born when FZ was composing this music— those with the sight-reading and improvisational skills to master such little "pop" tone-poems as "Inca Roads," "Black Page #2" and "Eat That Question." FZ alumni Steve Vai, Napoleon Murphy Brock, Terry Bozzio and George Duke would appear as "special guests" during these concerts, which are partially preserved in a 2008 film by Pierre and François Lamoureux called
Zappa Plays Zappa
(2 DVDs recorded in Seattle and Portland). In December 2010 in Los Angeles, Dweezil and the band played the
Apostrophe
album in its entirety, along with many other items from the vast Zappa catalogue— among them "Uncle Remus," "Inca Roads" and "Dinah Moe Hum." George Duke was the "special guest" at this pair of concerts, along with the video shade of FZ who played on a giant screen along with the onstage musicians for a couple of numbers.
In a 2007 Montreal interview, Dweezil commented: "When it came time to put the band together, I knew it was going to be a big challenge to find people that were able to rise to the challenge. I personally feel that Frank's music is very contemporary and I wanted to present it in a way that— if we're trying to attract a newer audience— which I definitely am determined to do— I want younger people to be interested in it and be exposed to it. I thought, 'I probably need to have a younger focus with the band itself.' And that sort of energy would be very important. I was very fortunate in that the word got out to the right people...[among them] ...Aaron Arntz [trumpet & keyboards], Scheila Gonzalez [keyboards, sax & vocals] and Billy [Hulting] the percussionist..."
Considering the success of these concerts, in some ways the "pop" side of Zappa's huge output has become "classical" too
—
now precisely set out or notated in highly complex arrangements that replicate the sound and shape of Zappa's originals without being slavish imitations. Dweezil may not have the edgy, brittle brilliance of his father's guitar technique, but he is a more lyrical and coloristic player whose immense gifts serve this music well. Dweezil says: "What we're doing onstage is just celebrating Frank's music and trying to give people the chance to see it -- now -- in the most authentic way possible... I'm not going onstage trying to pretend to 'be' Frank.... There's certainly enough music to explore.... I am looking to the future to be able to do this on an annual basis and continually add more material and just keep improving the way we're able to present it."
This is the credo of the classical musician faced with his or her umpteenth performance of a Beethoven symphony or Ravel's
Boléro
— to "just keep improving the way we're able to present it." Frank Zappa's "last band," the Ensemble Modern, made its West Coast debut in 2010 at the 64th Ojai Music Festival. This world-famous festival has been called "the most important new music event on the West Coast, if not the entire U.S. [... ] a necessary pilgrimage for any fan of contemporary classical music," so said the LA Times. "For a new music fan, Southern California's Ojai Festival is about as close to nirvana as it gets," opines the San Francisco Classical Voice. The Ensemble played music from
The Yellow Shark
and
Greggary Peccary & Other Persuasions
on a program with Varèse's
Density
21.5 and
Octandre
. On the season's brochure cover were photo portraits of Stravinsky, Messiaen and Frank Zappa. The Festival even offered a "Zappa Package
—
Everything Zappa in one day: Friday Symposium, Pre-Concert Dinner, Zappa Concert." At the Symposiuim, members of the Ensemble Modern recounted tales of their tours and recordings with FZ in the 90's.
Zappa certainly stands alone as a serious composer of both popular and classical music; he has a unique and instantly recognizable style in both genres. And while "Mo 'n' Herb's Vacation" or "The Girl in the Magnesium Dress" may never surpass "Dinah Moe Hum," "Peaches in Regalia" or "Call Any Vegetable" in popular esteem, those deeply convoluted and cerebral compositions pay back the adventurous soul who ventures a few repeated listenings.
According to Max Paddison in the Grove Music Dictionary: "Zappa's importance lies less in any obvious influence on rock music than in the way his music embraces American popular culture while simultaneously maintaining a critical distance from it .... His own material is always calculatedly secondhand, disposable and ephemeral; his approach to structuring it is critical, ironic and self-reflective. The result has a richness of allusion, wealth of detail and a consistency of thought reminiscent of James Joyce." Like the works of Joyce, particularly
Ulysses
and
Finnegans Wake
, the surface difficulties are many, but the pleasures run deep.
Social satire, a gleeful sense of humor, musical sophistication and silliness, Brechtian alienation and Dadaist collage technique are all present in Zappa's work, which has achieved the individuality of high-art music subversively grounded in the popular music industry. In a way, Zappa is something like the J.S. Bach of the 20th Century. He synthesized and celebrated defunct or old-fashioned styles (Doo-wop, for example, vis-a-vis Bach's use of Fugue), making something utterly fresh and Zappa-esque to scintillate and delight listeners for decades to come. And that, as they say, is nothing to "snat!" your fingers at.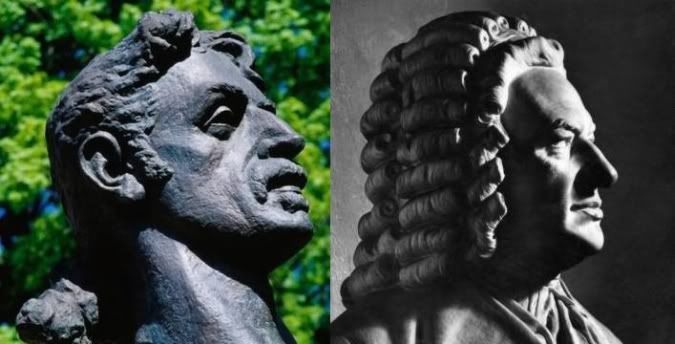 Click
HERE
to see "eARTh", a rare Zendik Arts Farm publication containing an interview with Frank Zappa.

* * * * * * * * * * * * * * * * * * * * * * * * * * * * * * * * * * * * * * * * * * * * * * * * * * * * * * * * * * * * * * *
RELATED SONGS:
"Dog Breath Variations" (The Yellow Shark, 1993)
"Peaches in Regalia" (Hot Rats, 1969)
"Call Any Vegetable" (Absolutely Free, 1967)


* * * * * * * * * * * * * * * * * * * * * * * * * * * * * * * * * * * * * * * * * * * * * * * * * * * * * * * * * * * * * * *
SUGGESTED LISTENING
:
Just Another Band from L.A.
(Zappa & the Mothers of Invention, LIVE at UCLA) - 1972
One Size Fits All
(Zappa / Mothers) - 1975
Cruising with Ruben & the Jets
(Zappa / Mothers) [reissued on compact disc in 2010 as
Greasy Love Songs
, with several added tracks] - 1968
Hot Rats
[with Captain Beefheart, vocalist, on "Willie the Pimp"] - 1969
Apostrophe (')
- 1974
Chunga's Revenge
- 1970
The Yellow Shark
[LIVE in Europe with Ensemble Modern] - 1993
The Perfect Stranger
[with Pierre Boulez & Ensemble Intercontemporain] - 1984
Francesco Zappa
- 1984

* * * * * * * * * * * * * * * * * * * * * * * * * * * * * * * * * * * * * * * * * * * * * * * * * * * * * * * * * * * * * * *
SUGGESTED VIDEO:
Baby Snakes
(1977)
200 Motels
(1971)
Frank Zappa: The Dub-Room Special
(1982)
Zappa Plays Zappa
(2007)
Below, an hilarious appearance by a young Frank Zappa on
The Steve Allen Show
"playing his bicycle." He also mentions having recently scored Timothy Carey's 1962 film
The World's Greatest Sinner
. (Parts 2 and 3 will play automatically):

* * * * * * * * * * * * * * * * * * * * * * * * * * * * * * * * * * * * * * * * * * * * * * * * * * * * * * * * * * * * * * *
SOURCES:
Grove Music Online (Zappa, Frank; Zappa, Francesco)
The Real Frank Zappa Book
by Frank Zappa with Peter Occhiogrosso; Poseidon Press 1989 [quotations from this book notated as FZ with page number]
www.zappa-analysis.com
Zappa Plays Zappa
(2 dvd concert film) P. & F. Lamoureux; Muppy Productions and Strobosonic 2008
Ojai Music Festival program-brochure, June 10 - 13, 2010

* * * * * * * * * * * * * * * * * * * * * * * * * * * * * * * * * * * * * * * * * * * * * * * * * * * * * * * * * * * * * * *
"The people most offended by my lyrics seem to be rock critics. The audience usually likes them." —FZ